The focus of the Yoga Alchemy Teacher Training is on sequencing intelligent vinyasa flow classes.
After looking at the origins of modern Vinyasa Flow yoga and its roots into the Ashtanga Vinyasa system, we will delve into the contemporary fertilization of asana with spirituality, somatic studies, dance, and philosophy.
Among the topics covered :
Creating transformative vinyasa sequences that intelligently prepare the body to explore peak poses at all levels.
Functional anatomy: how to work with the 10 main myofascial tissues of the body.
Foundations of Vinyasa flow yoga.
Understanding the energetic curve of a class: wave sequencing.
Phases of a yoga class.
Elements in the flow.
Sequencing styles: all-around and peak pose sequencing.
Functional anatomy applied to sequencing for peak poses.
Creative sequencing, modifications, hands-on adjustments, and prop use. Mandala Sequencing.
Kramas: use of stages when teaching mixed level classes.
Creativity and flow: at the end of the course the students will be able to move away from traditional Sun Salutations and explore creative possibilities for warming up and preparing for the peak poses.
This online course can be complemented with the residential course held at Floripa Yoga & Kitesurf House from August 22-30, which will integrate the training with the following topics:
Bhakti Yoga, through Vedic Chanting and chanting kirtan with harmonium.
Daily Vinyasa master class with embedded hands-on adjustment workshop.
Asana workshops for posture families (inversions, backbends, handstands, etc)
Teaching Labs to practice teaching the techniques learned.
To enroll please email at [email protected]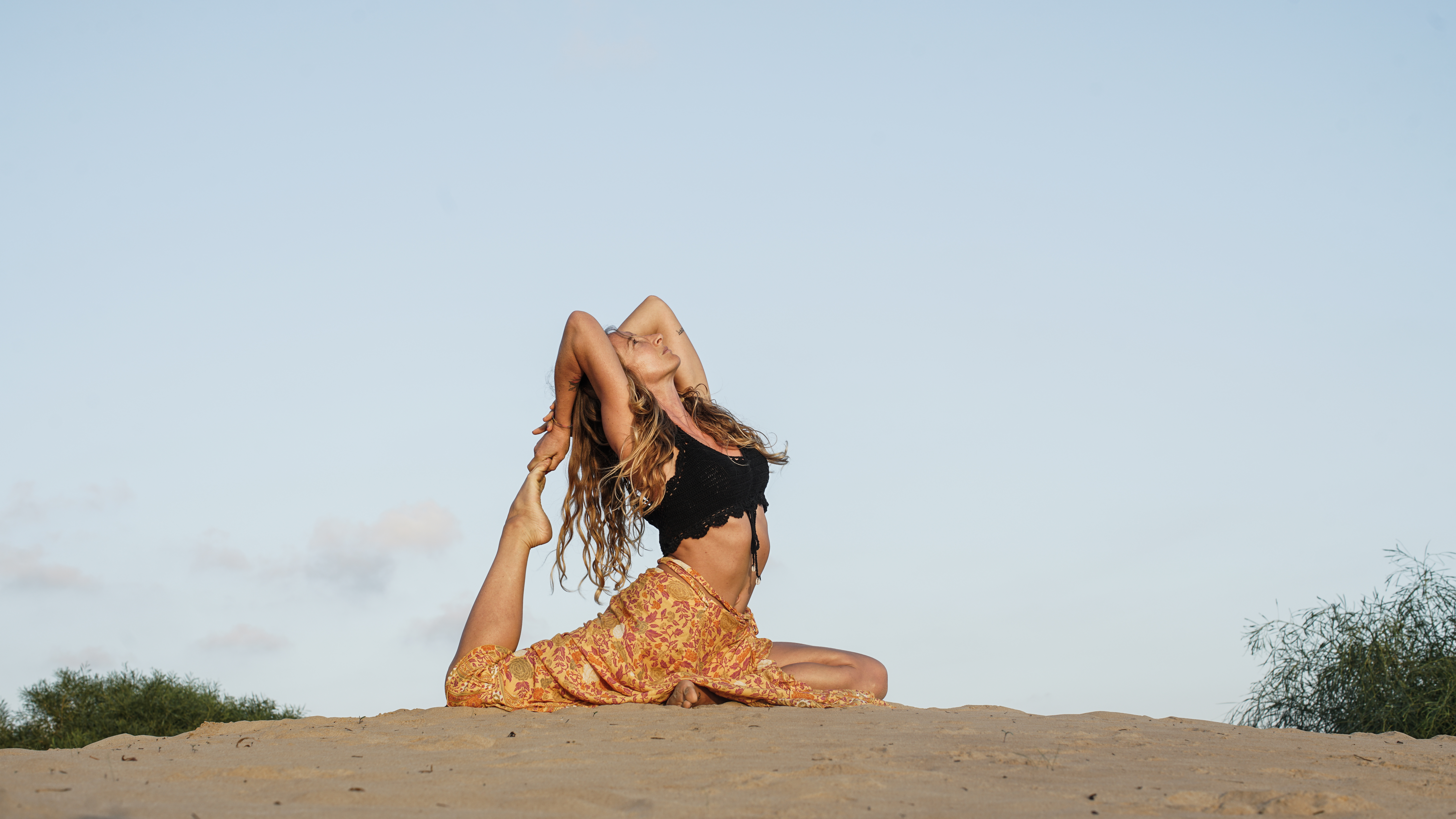 Hi, I'm Ameriga!
Ameriga Giannone is the main teacher at Floripa Yoga & Kitesurf House.
Feeling a strong attraction to Asian cultures, she pursued her first University Degree in Oriental Languages and Cultures, and was introduced to Asian philosophies during her undergraduate studies. She spent her early youth living and traveling across different East Asian countries and at the age of 25, while living in Burma, she begun to practice vipassana meditation A few years later she was introduced to postural yoga. It was love at first asana and since then she has studied with profoundly inspiring teachers and collected over 2000 hours of formal trainings. She can be found on the students' mat during the winter months every year, when she devotes her time to sadhana and research.
Ameriga's classes eclectically blend together her experiences with different styles of postural yoga. She teaches a slow and deep vinyasa flow, infused with the philosophical underpinnings of yoga, tantra and advaita vedanta. She guides the classes primarily by voice and touch (students are advised to let her know if they prefer not to be touched) inviting the students to find depth in the pose by exploring it, instead of "performing it" according to an ideal shape. 
She often sequences her flows in a mandala style, with emphasis on intentional movements, playfulness, breath work, and somatic embodiment.
The teachers that have influenced her movement practice are Shiva Rea (with whom she has completed over 300 hrs of trainings), Meghan Currie, Vinay Kumar (Pranavashya Yoga), and several Ashtanga Vinyasa yoga teachers, starting with Gregor Maehle and Monica Gauci, who inspired Ameriga to study Sanskrit, yoga philosophy and anatomy. Ameriga also visits the Ashtanga shalas of Nancy Gilgoff, Balu Tevar, and Lino Miele. She has also trained extensively in Yin Yoga with Jo Phee, studying also for advanced modules such as cadaver dissection.
Outside of the mat, Ameriga loves to live by the sea, where she kitesurfs when she can. She is also an avid student of Tibetan buddhism and Sanskrit, and loves to play kirtan with her band, the Bhakti Sisters.
You can follow her on Instagram at Ameriga_yoga
To enroll to this course email us: [email protected]