The self-paced 20 hrs online course "History, Philosophy and Ethnography of Yoga" taught by Daniela Bevilacqua is part of our our 300 hrs Teacher Training Program.
It can be taken as a stand-alone course or as part of the 80 hrs Teacher Training program "Living Yoga: History and Philosophy of Yoga". The dates for the 2021 residential retreat will be announced soon.
This course is composed by:
Seven 90 minutes lectures + 2 Q&A sessions.
PLEASE NOTE: in order to receive 20 hrs CEU you need to complete the quizzes at the end of each modules.
These are the modules of the 20 hrs Online course:
Module 1) Hindus Valley, Vedas and Early Upanishads
This first module provides an introduction to ancient India, dealing with the Indus Valley civilization, the emergence of the Vedas and the religious systems which developed around the 5th century BCE.
Why? Because if we want to understand the origin and development of the major religious traditions of India, we have to look at their roots. Likewise, if we want to understand the origin of yogic traditions, solid historical bases have to be created and misunderstanding removed.
Module 2) Late Upanishads, Bhagavad Gita, Yoga Sutra and Samkhya Yoga
This second module will explore the development of yoga theories in the late Upanishads and will introduce to the yoga presented in the Bhagavad Gita.
Eventually the Yoga Sutra of Patanjali and his commentaries will be analyzed on the base of Samkhya philosophy and in confrontation with other philosophical and religious currents of the time. 
Module 3) Tantra and Bhakti, theories and religious movements
This third module investigate two fundamental topics of the Indian religious landscape: the development of tantric and devotional movements. A particular attention will be given to early tantric' movements and the theories developed by them, since they are going to influence the development of yoga practices. 
Module 4) Haṭha yoga and Yogi 
In this fourth module the meaning of haṭha yoga and yogi will be explored considering textual as well as ethnographic sources.
After the first section, indeed, there will be a quick introduction to contemporary traditional ascetic orders to analyse their understanding of haṭha yoga and the various "yogic figures" present in the traditional ascetic world. 
Module 5) Ascetics' practice of yoga
Through video and photos, in this module I am going to describe how contemporary ascetics learn physical yogic practices and how they explain the eightfold yogic path.  
Module 6) Asanas and the Various context in which they developed
The purpose of this module is to show the various contexts in which the asana practice developed.
For this reason, we are going to reconstruct, as far as we can, the historical development of asanas through textual and visual evidence. We will reach the 19th century and explore the origin of the modern postural yoga with Krishnamacharya. 
Module 7) Yoga Today 
In this last module we will analyze transnational yoga in relation to sadhus and we will discuss the influence some religious orders have today, and how more and more foreigners look for "traditional" gurus for their practice.
We will see how social media and the Internet are influencing the practice and the way some sādhus talk about yoga. Eventually we will present some controversial yogic figures as Baba Ramdev and Yogi Adityanath and how they are received by the ascetic community.
About our 80 HRS module "Living Yoga: History and Philosophy of Yoga"
This self-paced online course is part of our 300 hrs Teacher Training Program, as it constitutes 20 hrs of the 80 HRS residential module "Living Yoga: History and Philosophy of Yoga" course. Dates and location for the residential retreat will be announced in 2021. 
Besides from the lectures with Daniela, the residential course will also feature:
Pranayama and Yogic meditation (pratyahara): theory and practice. The classes place emphasis on strengthening one's self-practice. Several kriyas are explained and practiced.
Teaching Labs: How to bring yoga philosophy in our yoga classes: creating powerful themes, weaving them into the classes, sharing difficult concepts in an accessible way. Practice teaching themes for yoga classes.
Daily Bhakti Prema Vinyasa classes and asana workshops. 
Bhakti Yoga, through Vedic Chanting and chanting kirtan with harmonium.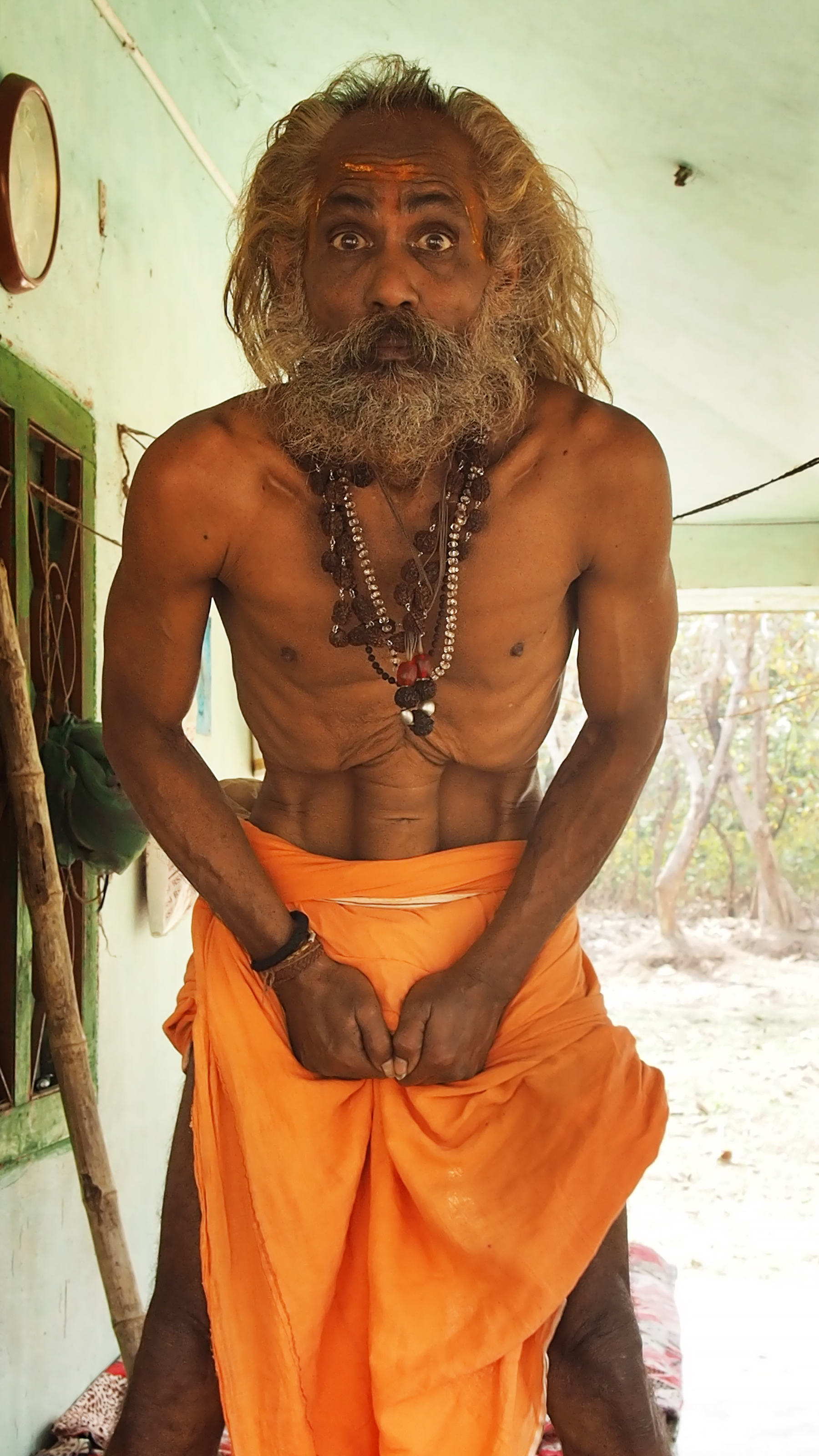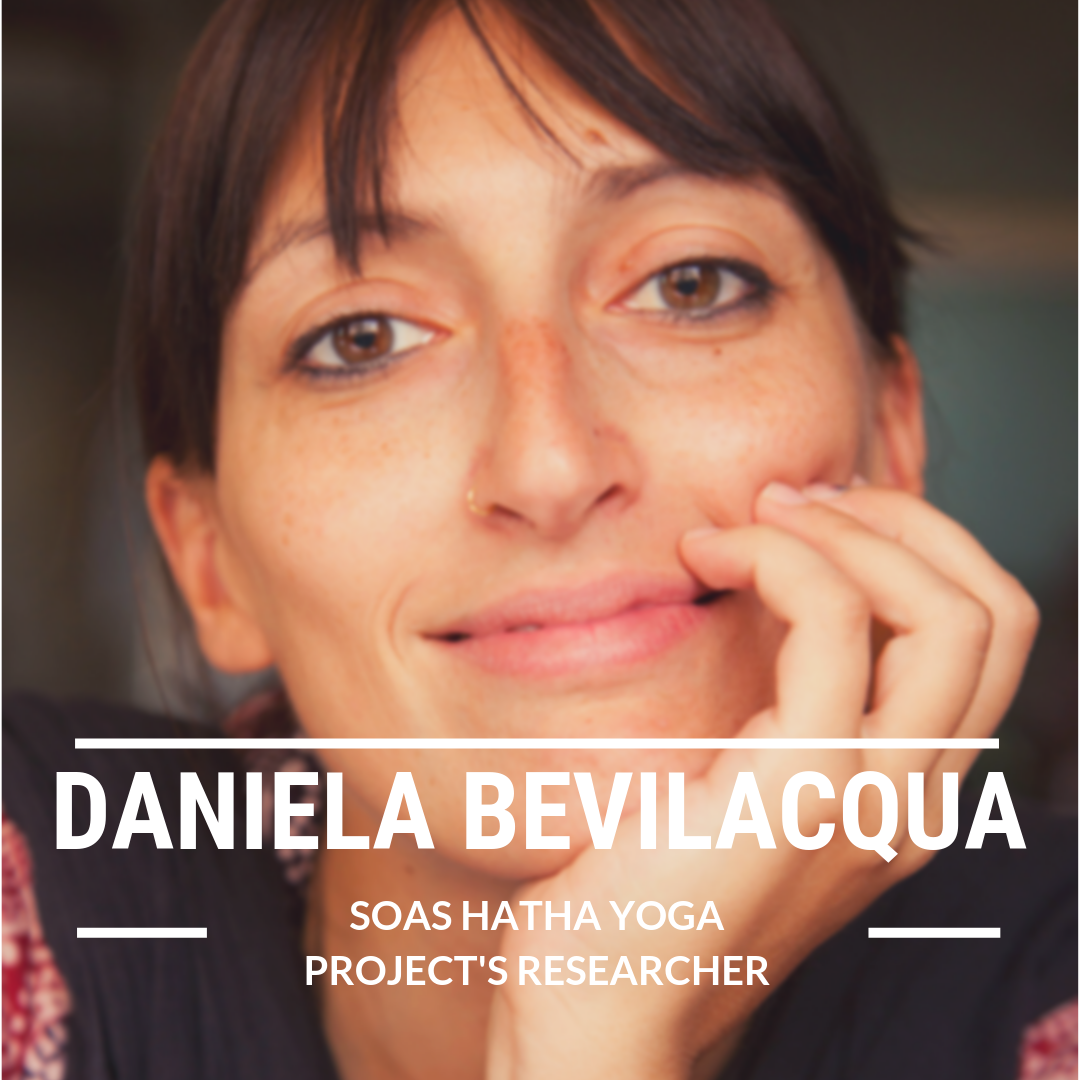 Bio: Daniela Bevilacqua 
Daniela Bevilacqua received her PhD in Civilizations of Africa and Asia from Sapienza University of Rome and in Anthropology from the University of Paris Nanterre. She is one of the 5 scholars who is researching for the Hatha Yoga Project at SOAS. 
Through fieldworks in India, she looks at the present practices of haṭha yoga among sadhus belonging to "traditional" ascetic orders connected with the physical practice of yoga and with austerities. The purpose of this research is to confront ethnographic material with textual and historical evidences to reconstruct the development of these practices. 
Daniela has an online course on Indian Yoga and Hindu Asceticism that you can look at here:
https://www.yogicstudies.com/ys-103 
Daniela has a super contagious energy and her work is super interesting as she has the ability of bringing you on an ethnographic journey among the Indian sadhus and yogis that she has met during her fieldwork. 
Bio: Ameriga Giannone
Ameriga, E-RYT500, MSc in Anthropology and Development (London School of Economics) and MA in Yoga Studies (University of Venice), is an avid student of Eastern Philosophies and soteriological disciplines since a young age. 
Feeling a strong attraction to Asian cultures, she pursued her first University Degree in Oriental Languages and Cultures, and was introduced to Asian philosophies during her undergraduate studies. She spent her early youth living and traveling across different East Asian countries and at the age of 25, while living in Burma, she begun to practice vipassana meditation A few years later she was introduced to postural yoga. It was love at first asana and since then she has studied with profoundly inspiring teachers and collected over 2000 hours of formal trainings. She can be found on the students' mat during the winter months every year, when she devotes her time to sadhana and research. 
Ameriga's classes eclectically blend together her experiences with different styles of postural yoga. She teaches a slow and deep vinyasa flow, infused with the philosophical underpinnings of yoga, tantra and advaita vedanta. She guides the classes primarily by voice and touch (students are advised to let her know if they prefer not to be touched) inviting the students to find depth in the pose by exploring it, instead of "performing it" according to an ideal shape. 
She often sequences her flows in a mandala style, with emphasis on intentional movements, playfulness, breath work, and somatic embodiment. 
The teachers that have influenced her movement practice are Shiva Rea (with whom she has completed over 300 hrs of trainings), Meghan Currie, Vinay Kumar (Pranavashya Yoga), and several Ashtanga Vinyasa yoga teachers, starting with Gregor Maehle and Monica Gauci, who inspired Ameriga to study Sanskrit, yoga philosophy and anatomy. Ameriga also visits the Ashtanga shalas of Nancy Gilgoff, Balu Tevar, and Lino Miele. She has also trained extensively in Yin Yoga with Jo Phee, studying also for advanced modules such as cadaver dissection. 
Outside of the mat, Ameriga loves to live by the sea, where she kitesurfs when she can. She is also an avid student of Tibetan buddhism and Sanskrit, and loves to play kirtan with her band, the Bhakti Sisters.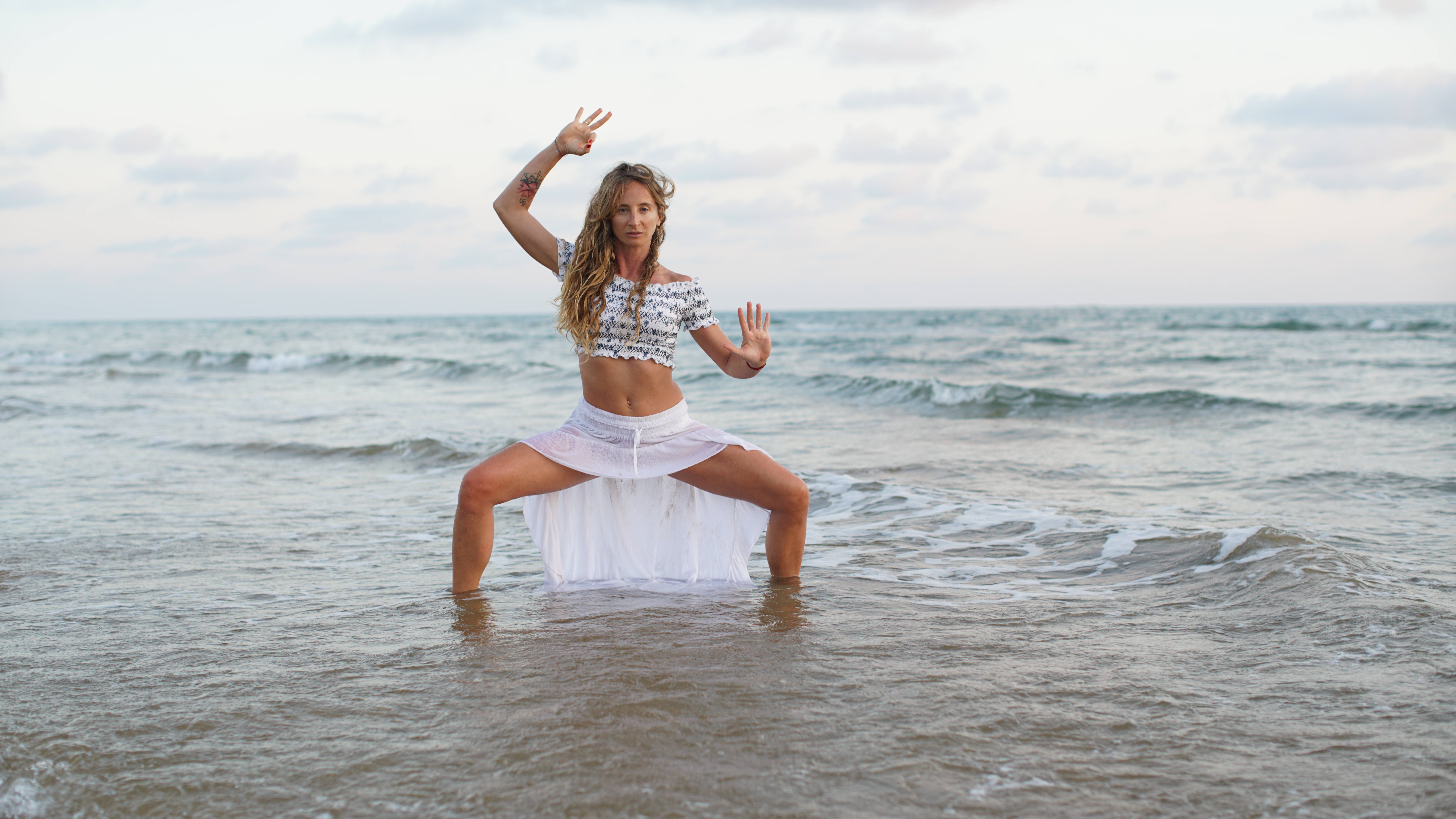 Price for the online course: 199,00 eu.
Price for the residential retreat: from 1438 euros.
To sign up for this self-paced course please email: